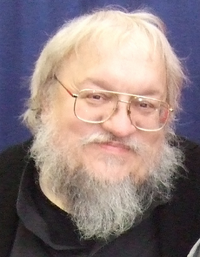 I fell in love with George R R Martin back during the release of "The Game of Thrones" the first book in his series, not the TV show. I absolutely love the way he writes the series telling the story from so many points of view.
I actually picked up the book because my best friend found the book and asked me to read it with him. I remember him calling me to tell me he had read ahead of me and there was a part that was going to make me cry, then me calling him back two hours later balling my eyes out cause he was right. ( I won't say which part for those of you who haven't read the book or seen the show.)
While waiting for Dances with Dragons to hit the shelves, I found a copy of Tuf Voyaging (one of his out of print collection of stories) at a library. I fell in love with it. Funny thing though cause I am not really into space related story telling and this story is set in space. Yet I've read it tons of times and absolutely adore it. I was so sad to return the book to the library, but amazingly near my birthday that year George announced on his blog they had found some copies of Tuf Voyaging. So I am now the proud owner of a Autographed Hardback. :D
The year before Game of Thrones came out on HBO, I followed his blog everyday checking constantly for who was being cast in the series. I was excited for some, unhappy and unsure about others, but I will say in the end after seeing the show, I'm pretty satisfied with the cast. There are parts I'm not completely sold on but overall I am pleased with all his choices. Since he had such a huge role in how the show came to be.
Sadly I am behind on my reading. I bought Dances with Dragons the day it came out and it is still sitting next to my bed never opened. I plan to read it this month because I am dying to know what happens next.
If you haven't read his books run over to your local bookstore or Amazon.com and get on it now. You will fall in love with him, just as I did. Also pick up the TV series, it's really good.